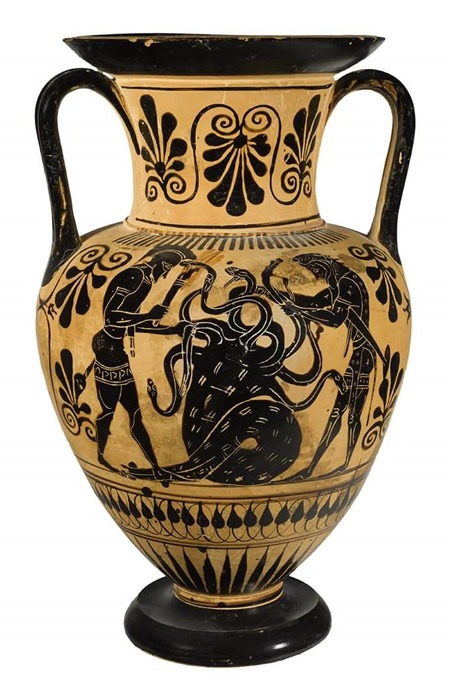 Name

Anfora attica a figure nere raffigurante l'uccisione dell'Idra di Lerna

Typology

Ceramica dipinta

Date

530-500 a.C.

Location

sala 13, vetrina 3

---

Provenance

Cerveteri

Findspot

Tomba Martini Marescotti 610, Necropoli di Monte Abatone

---

Materials

Ceramica

Technique

Decorazione a figure nere

Dimensions in cm

Altezza massima 28,6cm; larghezza massima 18cm

---

Inventory Number

106465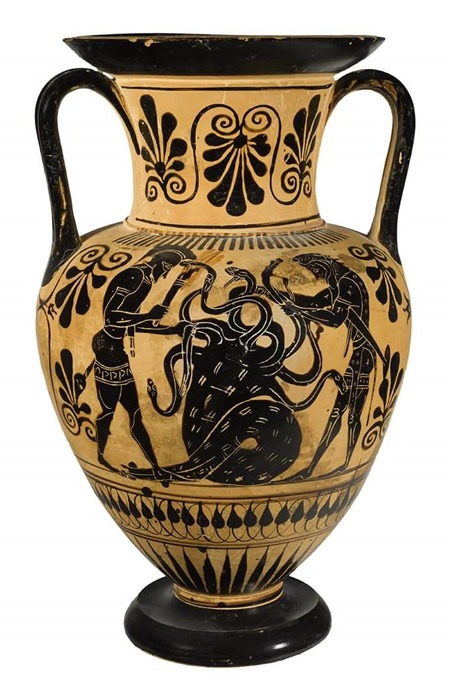 Nell'anfora attica a figure nere attribuita al Pittore di Michigan compare la rappresentazione di una delle dodici fatiche inflitte da Euristeo a Eracle: l'uccisione dell'Idra di Lerna, uno dei soggetti mitologici più precocemente rappresentati nell'arte greca. l'Idra, mostro acquatico dalle molteplici teste (da cinque a cento, secondo le fonti antiche), figlio di Echidna e di Tifone, era stata allevata da Hera nella palude di Lerna, in Argolide, sotto un platano, vicino alla fonte Amimone, proprio per servire da prova a Eracle. L'eroe riuscì a sconfiggere il mostro, le cui teste mozzate con la spada si rigeneravano, grazie a un'astuzia ispiratagli da Atena e chiamando in soccorso il nipote Iolao: mentre l'eroe teneva fermo il mostro, Iolao cauterizzava ogni ferita con tizzoni ricavati dal fuoco appiccato nella vicina foresta, ed è proprio questo il momento dell'impresa riprodotto nell'anfora. Si diceva che la testa di mezzo fosse immortale: Eracle la tagliò, la sotterrò e vi pose sopra un enorme masso, indi immerse le sue frecce nel sangue dell'Idra, rendendole in tal modo velenose alla minima scalfittura.
M. Moretti, "La tomba Martini-Marescotti", Quaderni di Villa Giulia, 1, Roma 1966.
G. Kokkorou-Alewras, s.v. "Herakles and the Lernaean Hydra", in Lexicon Iconographicum Mythologiae Classicae, V, 1, Zürich-München 1990, vol. V, 1, pp. 41-43.
Verbanck-A. Piérard, "Héraclès, pourfendeur des dragons", in Le Bestiaire d'Héraclès, (IIIe rencontre héracléenne. Actes du Colloque, Liège-Namur, 14-16 novembre 1996), Kernos Suppl. 7, Liège 1998, pp. 37-60: 44-48; 52-55 (sull'affinità iconografica e semantica fra l'impresa dell'Idra e quella dei pomi delle Esperidi).
Do you want to speak to us?
Send us your questions or follow us
Contact us
Write to us.
Discover who we are and what we do.